Ayton Castle will be open to the public for guided tours on certain days in the year. The tea room will also be open.
2019 Open Days
Ayton Castle will be open to visitors on the following dates:
Thursday 20 June
Friday 19 July
Saturday 20 July
Guided tours will be available between 10am and 4pm (last tour at 3.30pm).
We strongly recommend booking to avoid disappointment: tickets are available through Eventbrite at https://www.eventbrite.com/e/summer-open-day-tickets-61026390577
The maximum per group is 15 people. The charge is £9 per head (children free).
Please park in front of the castle and enter via the coach pend (on the left of the main door)
The woodland walk & tea room are dog friendly.
Our Tea Room will also be open serving tea, coffee and delicious cakes.
Please see our website for details of open days later 2019 and also other events.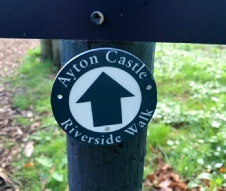 We welcome visitors to the grounds of Ayton Castle. Please access the grounds through South Lodge.
Round signs with blue arrows indicate the route of the Riverside Walk and a map can be downloaded here.
Please note that the area in front of the castle is not accessible.
Ayton Castle, Ayton, Berwickshire TD14 5RD
Follow us on:


Ayton Castle is a member of Historic Houses.