Ayton Castle will be open to the public for guided tours on certain days in the year. The tea room will also be open.
2019 Open Days
Ayton Castle July Opening - 19th & 20th July
We are very pleased to announce that the transformation of the Formal Garden is complete and that it can be viewed on the guided tours that will run as follows: -
Friday 19th July 2pm – 4.30pm
Saturday 20th July 10am – 3.30pm
TICKETS AVAILABLE HERE - https://www.eventbrite.com/e/ayton-castle-open-days-tours-to-include-formal-garden-tickets-64531652911
Also, are there any budding artists out there? Young and old, bring your pastels, crayons, pens and pencils and create a picture of the Castle. Judging will be held at the end of the day with a prize for the winner!
Afternoon Tea @ Ayton Castle
Come and join us in the beautiful setting of Ayton Castle's state room for afternoon tea.
We are offering a delicious selection of sandwiches, pastries & cakes with tea & coffee.
Gather friends / family and take a table of 8 for a reduced price of £110 – Composite tables also available for £15.95 per person.
Tickets available through Eventbrite at https://www.eventbrite.com/e/afternoon-tea-ayton-castle-tickets-63052151683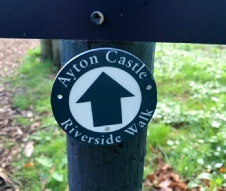 We welcome visitors to the grounds of Ayton Castle. Please access the grounds through South Lodge.
Round signs with blue arrows indicate the route of the Riverside Walk and a map can be downloaded here.
Please note that the area in front of the castle is not accessible.
Ayton Castle, Ayton, Berwickshire TD14 5RD
Follow us on:


Ayton Castle is a member of Historic Houses.